Description
Zanussi being an Italian producer of the home appliances began as the small workshop of Antonio Zanussi in the year 1916. It was later bought by Electrolux in the year 1984. This company has been exporting from Italy for a very long time. He started the business by making stoves as well as wood-burning ovens. Later in the year 1954, in Porcia, a factory was opened and a study centre was established where research work and designing new appliances were done after the first gas cooker was brought by Zanussi. You can easily look for Zanussi Parts Online and other Catering Parts and Supplies at our website. Buy Zanussi Parts at very reasonable price from PartsFPS.co.uk. Shop with confidence for the best Zanussi Parts UK.

In the year 1958, this company first produced the Zanussi washing machines. It launched the first "supermarket" fridge with automatic defrosting along with two compartments and with separate temperature controls in the year 1959. Get your Zanussi Parts from our website and make the most out of your appliance. Save your money with our wide range of Zanussi Parts and accessories. Zanussi Parts UK includes Heating Element, Drain Tap, Swivel Castor, Solenoid Valve, Hot Air Fan, and much more.

Some of our Zanussi Parts
Zanussi Heating Element 59563
Product Description-
The Zanussi 59563 has power of 5500W with a voltage of 230V. The Zanussi heating element has one heating circuit. It can be applied to the immersion heater. The alternative part number of 59563 is 3355510.

The Zanussi 59563 has a length of 320Mm, a width of 86Mm, and a height of 248Mm. The mounting of this part with part number 59563 is a rectangular flange. This Zanussi heating element is suitable for Alpeninox, Electrolux, Zanussi, Whirlpool, and Inoksan. It has a tube diameter of 8,5Mm, and a connection length of 26Mm.

Product Specification-

Product Name- Zanussi Heating Element

Part Number- 59563

Application- Immersion Heater
Zanussi Drain Tap 0S0135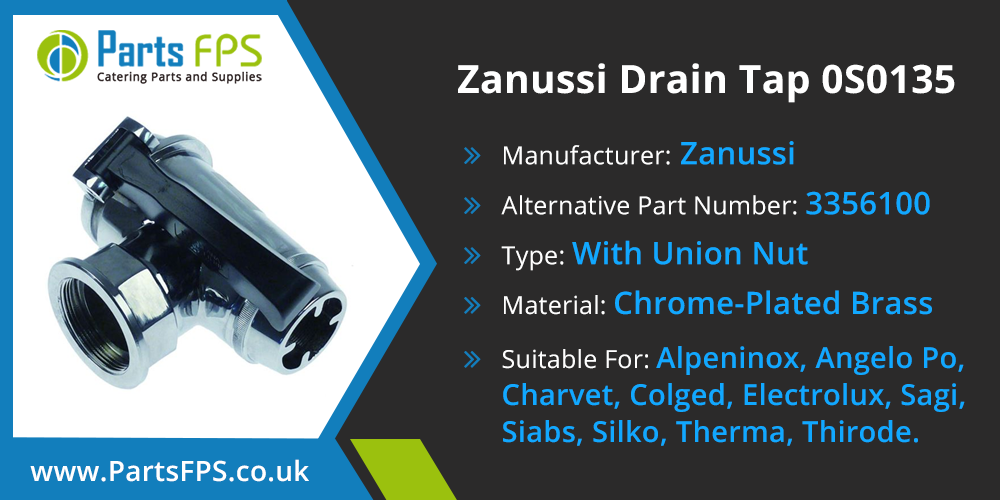 Product Description-

The Drain Tap 0S0135 is suitable for models such as Fagor, Firex, Giga, Mastro, Electrolux, Baron, Angelo Po, Bertos, Icos, Lincar, Lotus, Mareno, Alpeninox, Bonnet, Colged, Charvet, Silko, Therma, Emmepi, Repagas, Jemi,and much more. This Zanussi 0S0135 part has 2"IT connector and with a union nut type.

The alternative part number for this Drain Tap 0S0135 is 3356100. The Zanussi 0S0135 is made up of chrome-plated brass.

Product Specification-

Product Name- Zanussi Drain Tap

Part Number- 0S0135

Dimension A- 90Mm

Dimension B- 151Mm

Dimension B1- 80Mm


Zanussi Swivel Castor 32146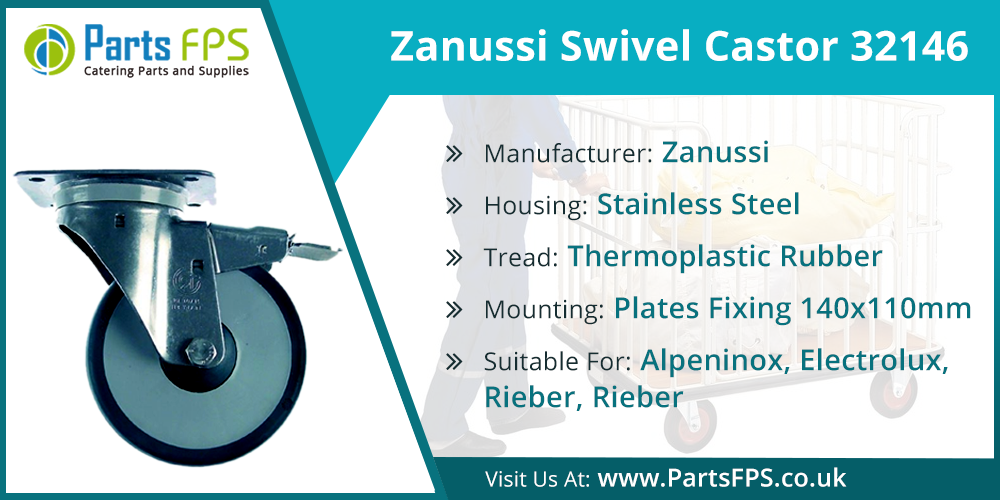 Product Description-

The Zanussi swivel castor has a wheel diameter of 160Mm. It has a mounting of plates fixing 140 x 110mm. The Zanussi 32146 has a hole distance of 105 x 80Mm which has a tread of thermoplastic rubber.

This Zanussi swivel castor has a height of 199Mm and a wheel width of 38Mm. This swivel castor is used for every type of transport equipment nowadays. It rotates on its vertical axis which helps in making the machines maneuverable. It consists of a swivel bracket along with one or two wheels. The wheel is fitted with a horizontal distance between the axis of swivel bearing and the wheel known as offset. This provides directional stability and can be equipped with brake systems too for locking the rotary motion of the wheel.
Product Specification-

Product Name- Zanussi Swivel Castor

Part Number- Zanussi 32146


Zanussi Solenoid Valve Body 89075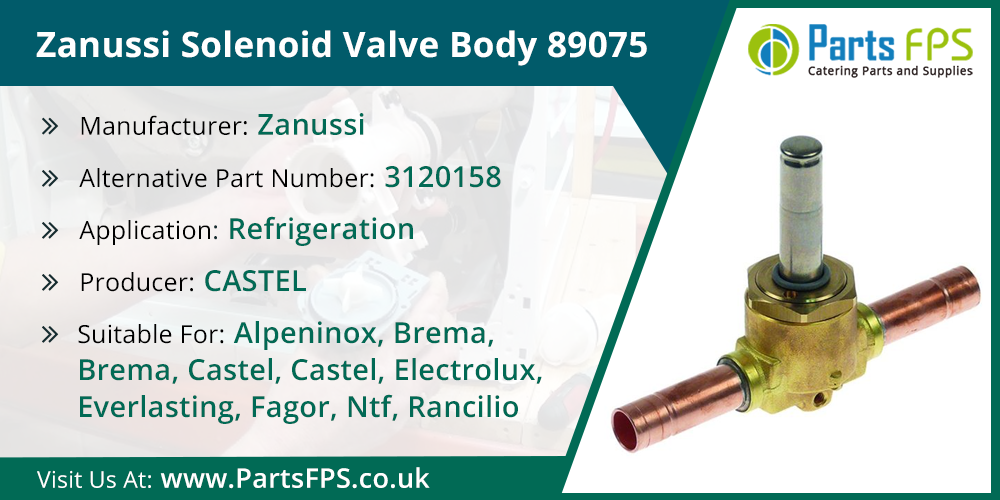 Product Description-

The Zanussi solenoid valve body of part number 89075 has an alternative part number 3120158. The maximum pressure is 45 Bar. The Zanussi 3120158 has a 10mm soldering connection.
The nominal size of the Zanussi 3120158 is 7Mm. The temperature range is -35 Up To + 105°C and a length of 111Mm. The producer of the Zanussi solenoid valve body is Castel. This part 3120158 is suitable for or compatible with models like Brema, Castel, Cookmax, Everlasting, MBM-Italien, Alpeninox, Electrolux, Fagor, Rancilio, Ntf, and Zanussi.

Product Specification-

Product Name- Zanussi Solenoid Valve Body

Part Number- 3120158

Type- NC

Version- Straight

Application- Refrigeration


Brita Purity C500 Quell St Zanussi 0S1056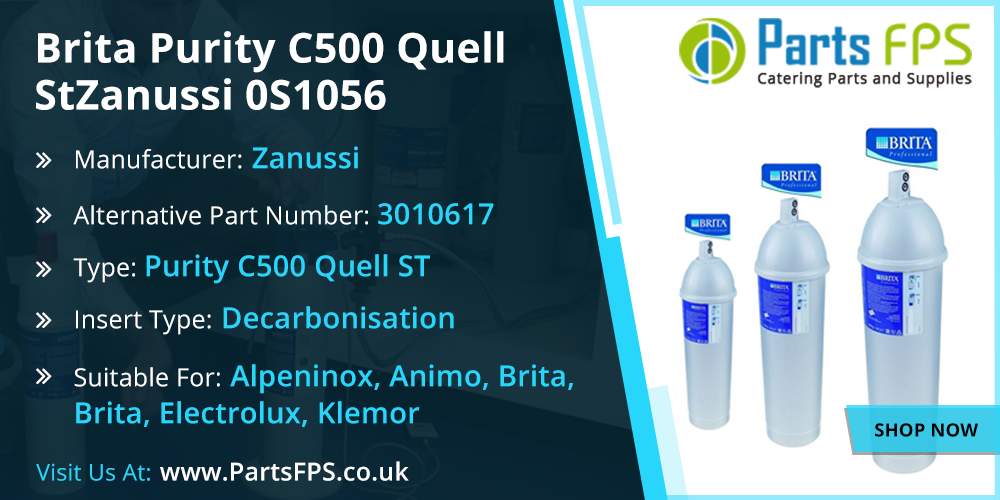 Product Description-

The Brita C500 water filter is specially developed for using it in the catering, coffee sector and vending in order to reduce the carbonate hardness for drinking water. This helps in avoiding the scale deposits in the upstream appliance. The Brita purity C500 Quell St filter helps in removing the heavy metal ions like copper and lead. It also reduces the organic impurities and chlorine that damage the taste and the quality of the filtrate.

The typical applications for the Brita purity C500 quell St Filter cartridges are the espresso machines and coffee, the hot and cold automats, combi-steamer and also the conventional ovens. The pre-filtration in Zanussi 0S1056 removes the coarse or rough particles.

Product Specification-

Product Name- Brita C500 Water Filter

Part Number- Zanussi 0S1056

Type- Brita purity C500 quell St

Insert Type- Decarbonisation

Capacity- 4125-6800L


Zanussi hot air fan 0A2010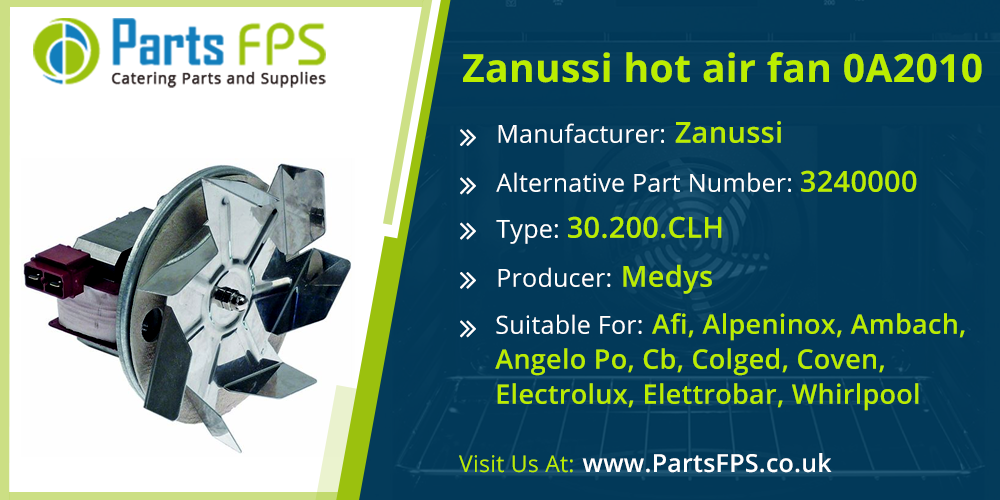 Product Description-

The Zanussi hot air fan is suitable for models like AFI, Alpeninox, Angelo Po, Baron, Ambach, Bartscher, Bertos, Colged, CB, Electrolux, Cookmax, Coven, Foinox, Meots, Emmepi, Mareno, Modular, Unox, Whirlpool, Lotus, Garbin, Gayc, Gico, Giga, Zanussi, Solymac, Stifler, Olis, and much more. The Zanussi 0A2010 has a voltage of 230V and a power of 45W.

The fan wheel diameter of this Zanussi hot air fan is 150Mm. It has a 30.200.CLH type. The alternative part number for Zanussi 0A2010 is 3240000. The length 1 is 78Mm, length 2 is 13Mm, length 3 is 25Mm, and length 4 is 87Mm. The producer of this Zanussi hot air fan is Medys.

Product Specification-

Product Name- Zanussi Hot Air Fan

Part Number- Zanussi 0A2010


Zanussi Thermometer Mounting 81512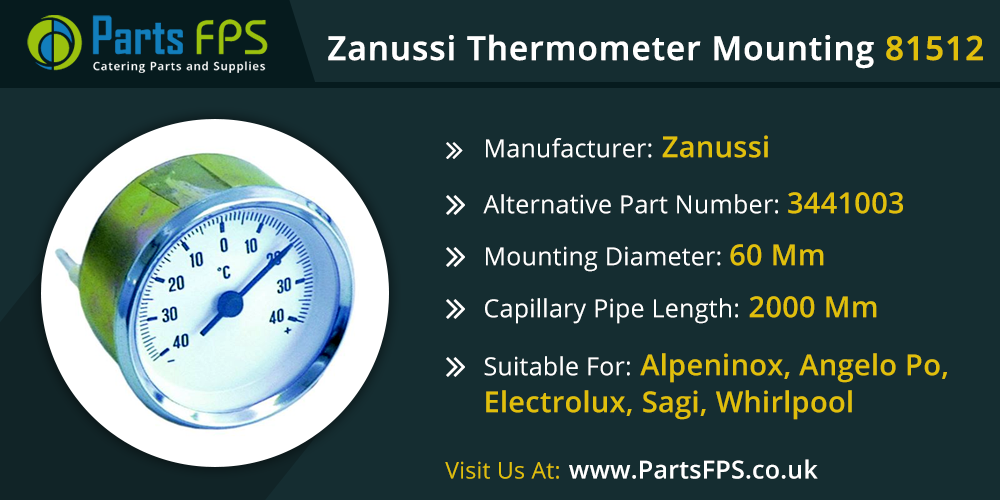 Product Description-

The Zanussi thermometer mounting is suitable for models like Angelo Po, Electrolux, Zanussi, Alpeninox, Sagi, and Whirlpool. The alternative part number of Zanussi 81512 is 3441003. It has a mounting diameter of 60Mm.

This Zanussi thermometer mounting has the maximum temperature of 40 °C with a measuring range of -40 Up To +40 °C. The probe diameter of Zanussi 81512 is 6Mm. It has a probe length of 135Mm and the capillary pipe length is 2000Mm.

Product Specification-

Product Name- Zanussi Thermometer Mounting

Part Number- Zanussi 81512


Zanussi Venturi For Burner Cap 2458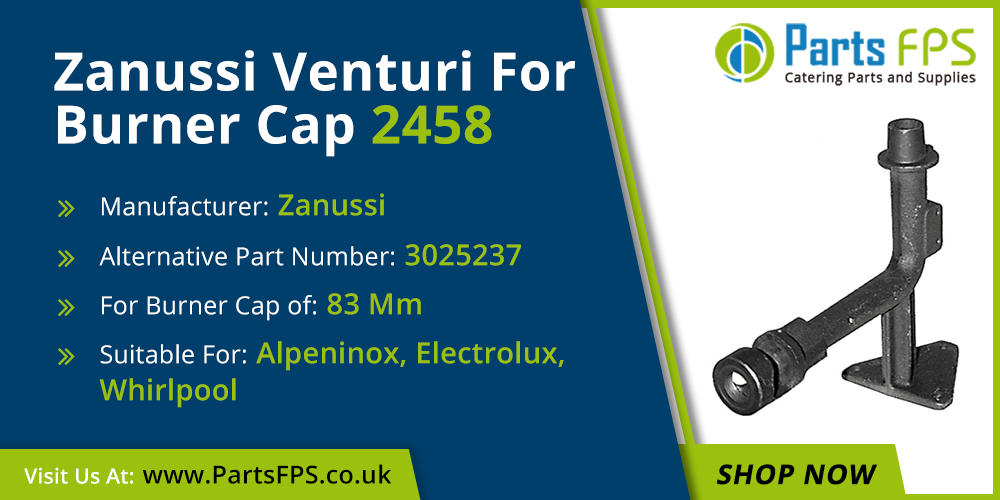 Product Description-

The exact part number of Venturi for burner cap is 2458 . It is 83Mm for Burner Cap ÃÂ. This Zanussi 3025237 part is suitable for models like Alpeninox, Whirlpool, Electrolux, and Zanussi.

Product Specification-

Product Name-Venturi For Burner Cap

Part Number-Zanussi 3025237

Category- Burners and Burner